Carotid artery intima-media thickness and hypertensive heart disease: a short review
Clinical Hypertension
2017
23:7
Received: 27 September 2016
Accepted: 3 January 2017
Published: 2 April 2017
Abstract
Sustained by its relative ease of assessment, carotid artery intima-media thickness (cIMT) has emerged as an important surrogate marker of target organ damage in hypertensive heart disease over the last three decades. However, the prognostic utility of cIMT in hypertensive heart disease differs depending on its application. This review outlines cIMT and its prognostic utility among patients with hypertensive heart disease. It provides an overview of limitations of cIMT and areas for future research.
Keywords
HypertensionCarotid artery intima-media thicknessEnd organ damageBlood pressureReview
Background
Since the method was first proposed in the mid 1980s [1], the ultrasonic evaluation of the combined intimal and medial layers of the common carotid arteries have garnered substantial scientific and clinical support as an early, preclinical, vascular endpoint. Non-invasive, inexpensive, reproducible, and with prognostic utility among the asymptomatic and diseased, it is increasingly being used as a surrogate outcome or marker of target organ damage, or used as a tool to base treatment strategies. Although the use of carotid intima-media thickness (cIMT) is pervasive, it is not without controversy.
Measured from B-mode ultrasound images as the distance between the intima-lumen interface and the media-adventitia interface (Fig.
1
), there have been substantial methodological differences among studies in their approach to determining cIMT. These differences include the artery examined (left, right, or both), arterial segments to be examined (common carotid, internal carotid, bifurcation), and the position of the measurements within these segments, the phase of the cardiac cycle, the walls (near or far), whether plaque is included in the measurement, ultrasound technology, image angle, and the approach to measurement (mean, max, or mean of the max; average across all segments; type of analysis software – semi-automated vs. manual) [
2
]. Different approaches to cIMT acquisition and measurement have been shown to vary in terms of reproducibility, predictive utility, rate of change, susceptibility to drug treatment, and the ability to obtain images for measurement [
3
]. Recent progress toward standardising approaches to image acquisition and measurement of cIMT are proving useful [
4
–
7
] but more work is required to ensure these approaches are well integrated and appropriate for different research areas and questions.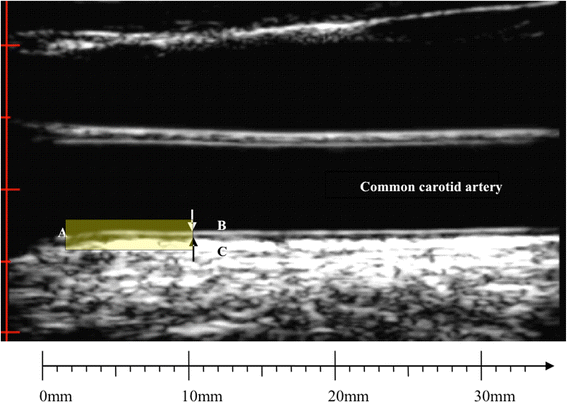 In the hypertensive patient, identification of asymptomatic target organ damage may help inform treatment decisions, and refine or reclassify an individual's cardiovascular disease risk. cIMT is one surrogate marker of target organ damage in the hypertensive patient that is considered in guideline statements by several authorities. The following will briefly overview the utility of cIMT for the hypertensive patient.
Conclusion
Measures of cIMT are elevated amongst those with hypertensive heart disease. Although individuals with a higher cIMT are at increased risk of clinical cardiovascular outcomes, the prognostic utility of cIMT differs by application and whether or not other risk factors are considered in the prediction. Further standardisation in measurement protocols, the subsequent establishment of a clear level of cIMT beyond which indicates target organ damage, and cost-effectiveness analysis of routine scanning of cIMT may provide additional information on the clinical usefulness of cIMT measurements for the hypertensive patient.
Abbreviations
cIMT:

Carotid artery intima-media thickness
ESC:

European society of cardiology
ESH:

European society of hypertension
IMPROVE:

Immediate management of the patient with ruptured aneurysm: open versus endovascular repair
NRI:

Net reclassification improvement
Declarations
Acknowledgements
Not applicable.
Funding
CGM is supported by a National Heart Foundation of Australian Future Leader Fellowship (100849). The funding bodies did not play a role in the study design, collection, analysis, and interpretation of data, in the writing of the manuscript, or the decision to submit the manuscript for publication.
Availability of data and material
Not applicable.
Author's contribution
CGM compiled, wrote, and critically reviewed the manuscript.
Competing interests
The author declares he has no competing interests.
Consent for publication
Not applicable.
Ethics approval and consent to participate
Not applicable.
Open AccessThis article is distributed under the terms of the Creative Commons Attribution 4.0 International License (http://creativecommons.org/licenses/by/4.0/), which permits unrestricted use, distribution, and reproduction in any medium, provided you give appropriate credit to the original author(s) and the source, provide a link to the Creative Commons license, and indicate if changes were made. The Creative Commons Public Domain Dedication waiver (http://creativecommons.org/publicdomain/zero/1.0/) applies to the data made available in this article, unless otherwise stated.
Authors' Affiliations
(1)
Menzies Institute for Medical Research, University of Tasmania, Hobart, Australia
(2)
Research Centre of Applied and Preventive Cardiovascular Medicine, University of Turku, Turku, Finland